Elle Cole
Last updated: September 2023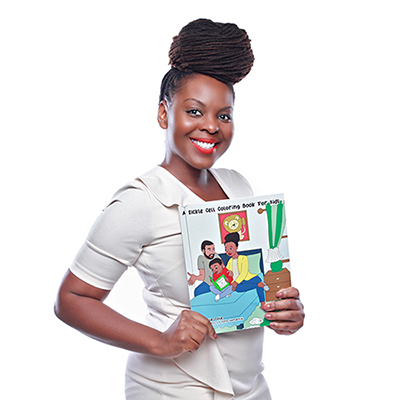 Elle Cole is a mom of twin daughters. After she and her husband learned their daughter had sickle cell disease, she wished there was a guide to help parents and kids understand more about how the condition affects a person's body. Therefore based on her own family's experience, she wrote books for children living with sickle cell disease: The Ultimate Sickle Cell Activity Book, ABCs of Sickle Cell Disease, A Sickle Cell Coloring Book for Kids, Aprendiendo Sobre la Enfermedad de Células Falciformes, and Un Libro Para Colorear de Células Falciformes Para Niños. Her books are used in hospitals globally to educate their youngest and most vulnerable patients.
Elle is a parent advocate for sickle cell disease and type 1 diabetes. She serves as a member of the National Heart, Lung, and Blood Institute's CureSCi Community Input Panel, the Children's National Hospital Community Advisory Board, Sick Cells Ambassador Program, Amplify Sickle Cell Voices International Inc. and is AllStripes Rare Disease Ambassador.
She is an award-winning caregiver and advocate. In June 2023, Children's National Awarded her their Sickle Cell Education Award. In 2022, she received the Caregiver Champion Social Health Network Award, and in 2020, Elle received the Advocating for Another WEGO Health award. Annually, she partners with the Sickle Cell Community Consortium to co-host the Annual Sickle Cell Caregiver Summit. She is committed to raising awareness about genetic disorders and autoimmune diseases to help improve the quality of life for people living with these illnesses.
In addition, Elle produces The Cleverly Changing Homeschool Podcast, and Feedspot named the Cleverly Changing Podcast #3 on the Top 20 Homeschooling Mom Podcasts list. Elle is also a recipient of a Bronze Congressional Award and has been featured on NPR, ABC 7, BBC World Service Radio, Good Morning Washington, and many podcasts. She is a writer, motivational speaker, and Sr. Marketing Manager for Cayenne Wellness Center and Children's Foundation.
Click here to read all of Elle's articles on RareDisease.net.